Category: Music
---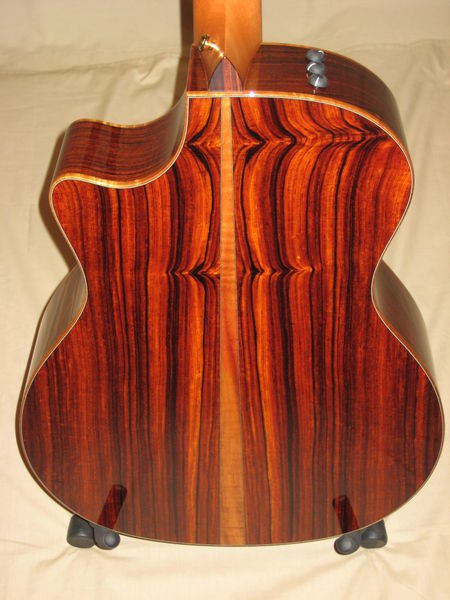 About a year ago I decided (and successfully convinced Ali) that collecting guitars and holding them as assets would be a good thing. The agreement that we settled on is that I can buy one instrument, uh I mean asset a year. I also got her to agree that my first purchase would count against 2007 even if it occurred in 2008 — quite a coup!
My first purchase came in March. I had wanted a hollow bodied guitar ever since I played around with one that John Jetmore had. I think he picked it up from a boutique dealer in Louisville. I was talking to "Uncle" Kenny about them at Thanksgiving and he turned me onto the Gibson ES-335, which is a semi-hollow body. I was really keen on one I found online which … Read More »
– Jamie @ 12:46 PM on Nov 14, 2008
---
Sweet foot stomping, banjo twangin' bluegrass. On our a way to our yearly dose of ear nectar the omens started early as we ran across a couple of dead Armadillos, or as my Cousin says, "Opossums in the half shell," on the way there. The thing about fiddlers is I don't like to know who is coming ahead of time. I like the anticipation of not knowing, but unfortunately more often than not I'm disappointed by a few notable no shows. This year was the worst in history. Only one Chandler made it — usually there is an entire clan. Joey Long was absent, though Joe and I did play Like a Hurricane in his honor. And to boot, Joe informed us that he got engaged (Congratulations Joe!) and for some inexplicable reason … Read More »
– Jamie @ 7:53 PM on Oct 10, 2007
---
I've recently built a home recording studio consisting of
A mostly quiet PC (the fans could still use some tweaking)
Firepod — A Firewire audio input device
Adobe Auditions — A 128 track audio editing software package
For my first outing with it, I decided to record Paul Simon's Slip Slidin' Away.
Feel free to give it a listen.
– Jamie @ 7:04 AM on Jul 28, 2005
---
I see now that I've been pretty lax about posting this month. For some reason I just haven't had much to say. For that matter, I still don't.
Well not much anyway — I wanted to just take a moment to point out an artist I've recently discovered and have been thoroughly enjoying.
Sarah Harmer
She has two CDs and I really like both of them.
Sarah Harmer @ BN
– Jamie @ 4:17 PM on Dec 29, 2004
---
Simon & Garfunkel released a two CD set along with a DVD of the Old Friends tour. It contains material from the New York and New Jersey shows one of which Ali, Anita, Harry, and I went to. How cool is that?
The CDs are missing a few songs (one particularly noticeable omission was Keep the Customer Satisfied. However, the DVD contains the entire show.
– Jamie @ 7:13 PM on Dec 9, 2004
Comments [0]
---