Category: Projects
---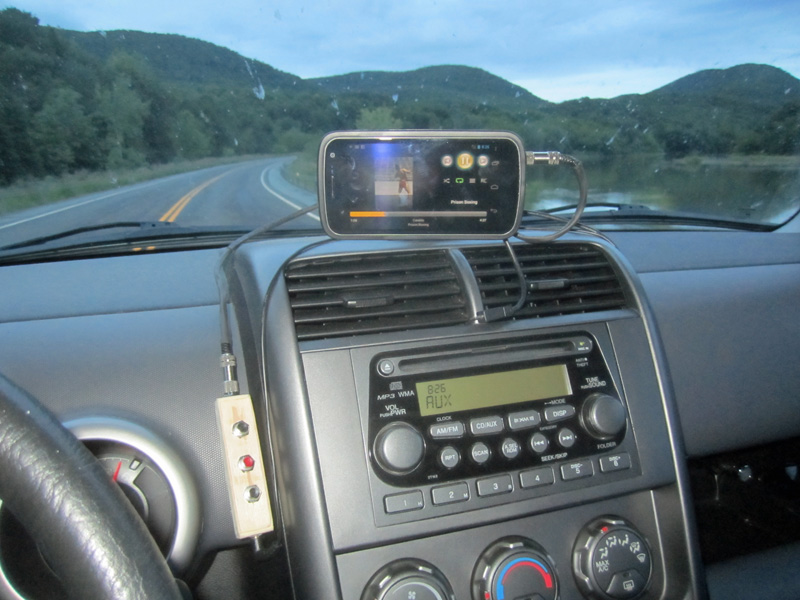 I use my phone a lot in the car to listen to music and podcasts. With subsonic I have full access to my entire music catalog which makes it a no brainer to use instead of fooling with CDs.  However I found myself really missing having physical buttons to control pause, play, and track skipping.  Aside from the convenience, it was also a little dangerous for me to be messing with my phone while driving.  Inevitably, I would end up hitting the wrong button, and that would be an even bigger distraction. … [continue reading]
– Jamie @ 12:50 PM on Jun 7, 2012
Comments [0]
---
David and I did our annual hiking trip back in September. It was absolutely the hardest terrain we've ever covered. We were hard pressed to do seven miles a day. I can only imagine what it would have been like if I hadn't made significant strides in reducing my pack weight.
In a previous post I wrote about my plans to reduce pack weight. I bought the do-it-yourself G4 pattern from Quest Outfitters. I think a sensible person would have just bought the pre-made pack from Gossamer Gear. The guys in the how-to lightweight backpack books talk about how great it is to make your own equipment, and I guess I drank the Kool-Aid. … [continue reading]
– Jamie @ 11:19 AM on Mar 7, 2009
---
Most recently I've worked on an HTML importer for OneNote. Originally, I had plans to build a Firefox extension that would allow right clicking on a web page and selecting a "Send to OneNote" option. After doing some initial research I decided that was going to be more effort than I could spare right now. Instead I compromised and built a tool that would work with both Firefox and IE, but the downside is that it is a two step process.
The code I've written will be easily adaptable to a Firefox extension if I ever get around to that part of the project. … [continue reading]
– Jamie @ 6:58 AM on Nov 9, 2006
---
Today I'm going to talk about the general purpose file importer I've built, and how it is used to allow for email importing.
Note: In order to use this application you will need to copy JPHOneNoteUtilities.dll into C:\Windows\assembly, or ensure the file is in the same directory as OneNoteImporter.
Let's look at how OneNoteImporter.cs works. This program looks in the directory specified on the command line for sub-directories. The sub-directories should contain files that are to be included in a OneNote page. A OneNote page will be created for each directory found. … [continue reading]
– Jamie @ 7:58 AM on Nov 8, 2006
Comments [0]
---
First off, let me say that this is the first .NET / C# coding I've attempted to do. So if you see where I've done something poorly or have any constructive feedback relating to the code, I'm all ears.
Secondly, I thought it would be helpful to enumerate a few resources that I've found useful.
The Unknown OneNote Guy's Blog
Daniel Escapa
Office 2007 (including OneNote 2007) XML schema
What's New for Developers in OneNote 2007 (Part 1 of 2)
What's New for Developers in OneNote 2007 (Part 2 of 2)
W3 Schools XML Tutorial
Okay so let's dive in. … [continue reading]
– Jamie @ 6:30 AM on Nov 7, 2006
---