Ruminations
---
Sweet foot stomping, banjo twangin' bluegrass. On our a way to our yearly dose of ear nectar the omens started early as we ran across a couple of dead Armadillos, or as my Cousin says, "Opossums in the half shell," on the way there. The thing about fiddlers is I don't like to know who is coming ahead of time. I like the anticipation of not knowing, but unfortunately more often than not I'm disappointed by a few notable no shows. This year was the worst in history. Only one Chandler made it — usually there is an entire clan. Joey Long was absent, though Joe and I did play Like a Hurricane in his honor. And to boot, Joe informed us that he got engaged (Congratulations Joe!) and for some inexplicable reason … Read More »
– Jamie @ 7:53 PM on Oct 10, 2007
---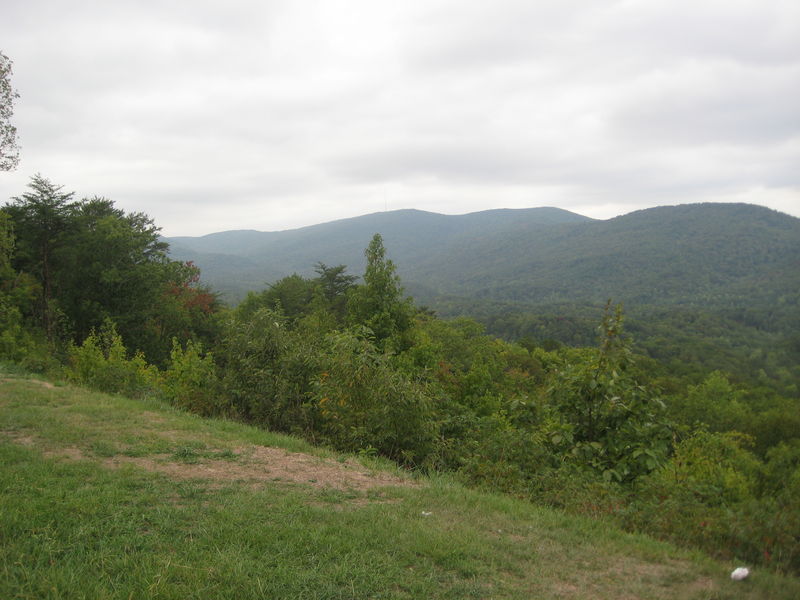 October is here and that can mean only one thing — time to travel to Alabama for the Fiddlers Convention. The past few years Ali and I have combined this trip with a weeks stay in Anniston. This seems to be about the only time we are getting down there, and it sure would be a shame to travel all that way and not get to visit with family and friends.
Ali planned a pseudo-surprise party for me on Sunday. I say pseudo because she told me we were doing something, but didn't say what it was. It was at Jen's house and she had cake and ice cream waiting. It was a lot of fun, most of the family was there, and a few friends showed up too.
Overall, we had a typical week — each morning Ali … Read More »
– Jamie @ 7:18 PM on Oct 8, 2007
Comments [0]
---
Another year, another fall, and as September was passing us by I was beginning to think our fourth annual hiking trip wasn't going to happen. Eventually David was able to tear himself away from the 'computer to plate' implementation at the paper. After driving all day he rolled into my driveway at 10pm on 9/19.
On Thursday we drove to Middletown to get provisions and to go to Alto Music. We ate at Johnny Rocket's in the mall, and then headed over to Gander Mountain. It's not the best place to get hiking gear, but they do have freeze-dried food and some other essentials.
Next stop, Alto Music — this is a very cool music store. It is very big; they have a lot of good brands; and in general there is a lot to look at. … Read More »
– Jamie @ 9:02 AM on Sep 26, 2007
Comments [0]
---
Ah Maine, I don't know what it is, but I really like this state. I've been a few times now; My first time we went to Camden for a Wind Jammer cruise back in 1998, and it was hands down the best vacation I have ever had in my life.
Our most recent adventure in Maine was through L.L. Bean's Outdoor Discovery School where we did their Camping Bike Tour, or as I was calling it the Yuppie Bike Tour. The reason for yuppie is because of the camping part — they provided tents, cots, Adirondack chairs, running water (showers and toilets), etc. I'm used to rugged camping and this felt like cheating. Of course, Ali was thrilled with the amenities, and probably wouldn't have even suggested the trip otherwise.
The program was just an overnight with two days biking around the … Read More »
– Jamie @ 6:13 PM on Aug 28, 2007
---
So Ali and I bought a Wii a few weeks ago — this thing is absolutely amazing! It comes with Wii Sports, which has golf, bowling, tennis, boxing, and baseball.
So if you haven't heard, the thing works via natural movement using an accelerometer and motion sensors. When playing sports, you actually perform the movement you would just as if it were real. This last sentence just popped a reference to War Games into my head:
David: Is it a game… or is it real?
Joshua: What's the difference?
David: Oh wow.
This dialog is very apropos. With the Wii, what is the difference?
One of the biggest benefits of the natural motion thing is that Ali is on a somewhat level playing field with me. In the past she has shunned games because she isn't very good at them. … Read More »
– Jamie @ 10:08 AM on Aug 17, 2007
---
One of the browsing habits I've formed over the years is using the right-click (or context) menu for back and forward navigation, i.e. to return to the previous page I was on. I've found this to be fairly efficient; I don't have to care where my mouse points is — I just right click, and then click 'Back'.
I switched to Firefox a couple of years ago, and I've been really happy, except … There are certain times when the 'Back' and 'Forward' options disappear from the context menu. The biggest annoyance is when text is selected on a page they get removed. I would often go to a page; using find to search for text on the page; get what I need; then try to right-click to go back only to find the option was gone. … Read More »
– Jamie @ 7:45 AM on Aug 17, 2007
---
So Nate, whose blog is so defunct it is embarrassing to link to it, turned me on to Alias a while back. I've been getting the seasons through Netflix, which is how I view all TV these days. Anyway, I'm on Season 4, and I'm watching the "tech" guy Marshall, who normally works from the safty of his office. In this episode, he has to act as an agent, and he inadvertently killed the person he was trying to get information from. It just so happens that the data is encrypted with a bio-metric retinal scanner. So now Marshall is tasked by a "real" agent to cut the guy's eyes out. Marshall says, "I don't think I can do this." To which Jack Bristow, a senior agent talking into Marshall's ear replies, "Sure … Read More »
– Jamie @ 5:28 PM on Aug 8, 2007
---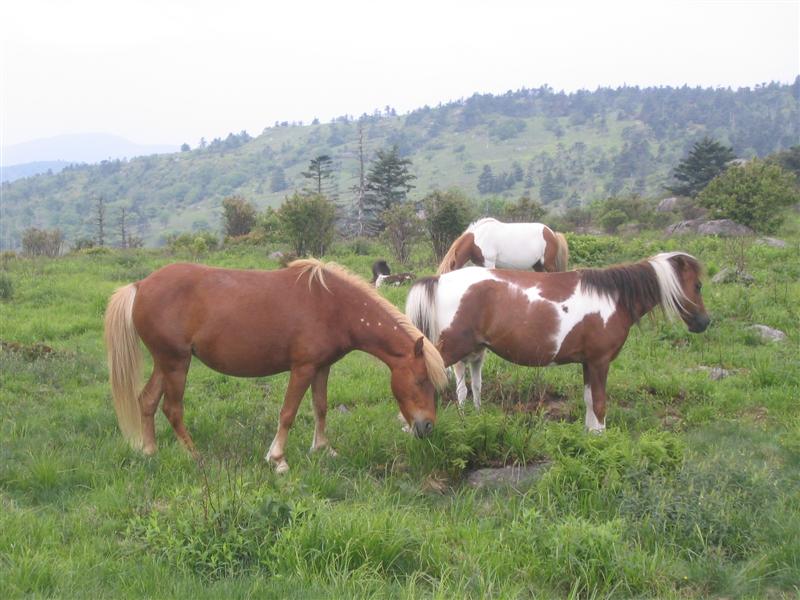 The real title of this entry should be Grayson Highlands. Since there were actually wild ponies where we were hiking the other title just felt more fitting.
Grayson Highlands is the site of the trek David and I undertook in early June. We had the privilege of hiking with Brant, a friend of David's who lives in Abingdon, VA.
Brant is quite an experienced hiker. He understands about ultra-light hiking, and I feel like he advanced our knowledge by many, many years.
David and I have talked about how to get our packs lighter, much lighter off and on. Every time we take a look at it we seemed to walk away with the feeling that it just can't be done. Brant let us borrow a book Beyond Backpacking which has a lot of good information about how … Read More »
– Jamie @ 8:48 AM on Aug 6, 2007
---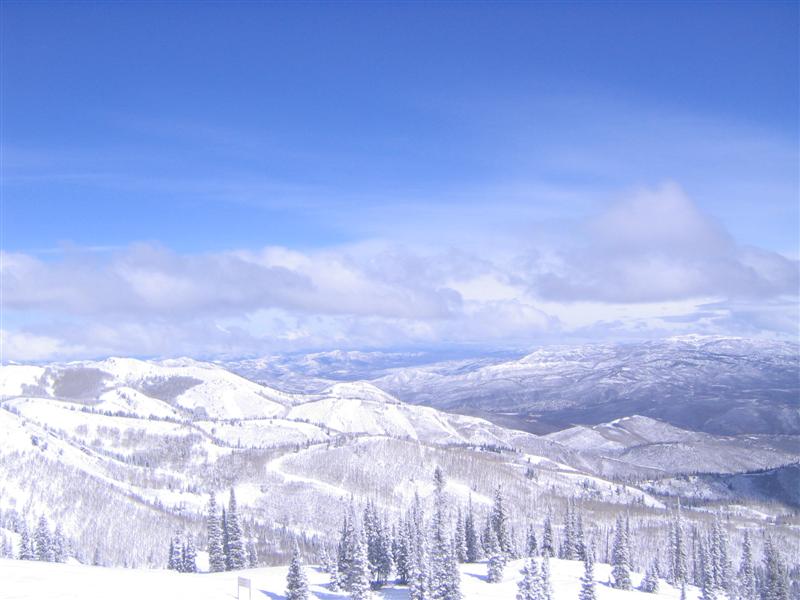 Ali and I spent last week in Utah. We stayed at the Sundial Lodge in The Canyons Resort area. We originally intended to ski at other areas like Deer Valley, but we ended up doing all of our skiing at The Canyons.
The first day was a little scary, while we explored the mountain we found a decent number of trails closed, along with typical spring conditions. It had been in the sixties over the weekend and it was around fifty on the mountain that day. At one point, we ventured up the Ninety-Nine 90 lift which took us to the highest peak on the mountain. I missed the sign that said, "Expert only, no easy way down!" and so I wasn't concerned until we were standing at the top of a bumped up double black … Read More »
– Jamie @ 11:15 PM on Apr 3, 2007
Comments [0]
---
I ran across an interesting article on ZD Net talking about the month of Apple bugs (MOAB). Some interesting bits were "Apple's 2007 patch count is an eye-opener. Seven updates, 62 vulnerabilities." and "in Apple's public bulletins, the company is making it clear that many of the MOKB/MOAB flaws were "high risk" issues that could lead to arbitrary code execution attacks. Very serious issues."
In my previous posts on Apple here and here I posited, "a likely reason there aren't viruses circulating for Macs is due to the lack market share. It's certainly not that they are invulnerable; it's just that no one is motivated to fool with the platform." The MOAB proved this true showing that a couple of security researchers were able to turn up a lot of vulnerabilities in just a month, many of which were … Read More »
– Jamie @ 7:10 AM on Mar 21, 2007
---