Category: Hiking
---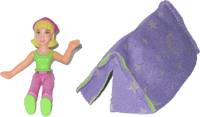 I have been in Winston-Salem all week preparing for our hiking trip sans Will. Will we will miss you terribly, but I did find a fill in. My niece Caitlyn was kind enough to give me her Polly Pocket goes camping doll. David and I will be bringing her along so she ca share in our adventures. Hopefully we'll have some good pictures for you when we get back.
It has been a blast, we spent the entire week reading books, and buying supplies. There was a lot stuff we needed to purchase — backpacks, stuff sacks, stove, water purifier, trekking poles, etc. Dave and I split up the purchases where we could.
We are leaving this morning and will be coming back sometime on Monday. We finally decided on Pisgah southwest of Ashville, NC. … Read More »
– Jamie @ 8:41 AM on Sep 3, 2004
---
Ali and I went hiking at Bellearye yesterday. We went up Dot Nebel which is a black diamond ski trail. There is only one section that is particularly steep so it wasn't too bad a climb. As we were wondering around the mountain we came across a patch of snow that hasn't melted yet. It was probably 50 feet long and 30 feet wide.
Not much else going on, I hope all of you are doing well.
– Jamie @ 11:29 AM on Jun 1, 2004
---